The third space and death of the sports car, Uber and Jump and the Garage Goldrush, UX at Chrysler and Christo, and face masks and really hearing
11th June, 2020 
A newsletter about the auto industry, mobility, design, and the cultures that surround us. Brought to you by Joe Simpson and Drew Smith of The Automobility Group. If you like what you see, tell your friends!
---
Auto
The Third Space
Why it's interesting: Just as cars are becoming socially-distanced social spaces, Renault kills off the original and the best, the Espace.
---
When I was 15 years old, I went to live in Normandy, France with the Courdurier-du Fours. To carry a family of 6, the family had at its disposal a first-generation Renault Espace, the one you see in the photo above. Coming from Australia, where people-carriers were thinly disguised commercial vehicles, the Espace was a revelation.
Large windows rolled down in to doors that opened like a regular car. The interior was trimmed in luxurious velour and while the switchgear was typical 1980s French in terms of quality, it looked like someone had at least given a damn when designing it.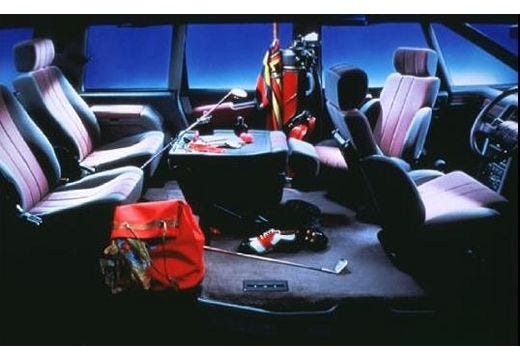 But the car's greatest party trick was revealed on a day trip to the D-Day cemeteries and Mont St Michel. Travelling 6-up, we rotated the 2nd row seats to face the 3rd row, so that us kids in the back could travel in social style, face-to-face. It felt both democratic and luxurious, because it was no longer necessary to languish, squished, in the 3rd row. Vistas opened, legs stretched and games were played.
I was reminded of that trip this morning as I read this New York Times piece that explores how the car has found its place as a socially-distanced social space, carrying occupants to graduations, masses, birthday parties and baptisms.
The article comes during a week in which Renault announced that it's killing off the Espace, Toyota announced a new Sienna, and I find myself wondering whether the car-as-social-space phenomenon will survive long enough for it to have an impact on what we see on the roads in years to come.
The popularity of the SUV, and the packaging constraints required to make them "sexy", mean that in the Western mainstream at least, the strict hierarchy of 1st, 2nd, and 3rd row experiences has been entrenched. Pity the person stuck in the last row of seats, subjected to the letterbox windows demanded by a vehicle that's pretending to be Sports, when it's really just Utility Vehicle in a corset.
Over the decades, concept cars that have explored the notion of the car as the "third space", something that sits in between home and destination, have abounded. The Kar-a-Sutra, top, by Mario Bellini, and Redspace REDS, below, overseen by Chris Bangle, are the two that fall most easily to mind.
With space to undertake the pleasures of living while static, rather than just driving or being a passenger, these concepts make it possible to imagine them as genuine extensions of our living spaces at home or our work spaces.
With the unfulfilled-but-always-just-around-the-corner promise of fully autonomous vehicles, it's interesting to contrast these two visions against those from major auto makers. Whether it's Volvo's 360C, Renault's EZ concepts or those from Bentley and Rolls Royce, all are about getting somewhere, about being on the go.
But what happens when we want to stop? What happens when we want to break the journey because - oh, the joys of serendipity - there's a beautiful view to take in, or a roadside food stand with the best burgers we've ever had?
That was the joy of the Espace.
When we stopped somewhere nearby the D-Day beaches for a break, we reconfigured the interior again. With the spin of the driver's seat, mère Courdurier-du-Four shifted from being the driver to being the doting, loving mother and host, face to face with her brood, with the worries of the road behind her.
| DS
Why it's interesting: sports cars used to represent the pinnacle of automotive development, and the aspirational typology of choice for those into cars and driving. But the breed is quickly dying off. Why?
---
From one hanging-in-the-balance Renault to another (of sorts). News that Renault has only sold 62 Alpine A110s in 2020, and is likely to shutter the Dieppe factory at which it is made prompted me to question, why is the sports car dying?
Audi – having briefly flirted with turning the TT nameplate into a multi-model sub-brand now won't replace the third generation coupe and cabriolet with a traditional sports coupe.
Around the world, sports car sales look fairly tragic: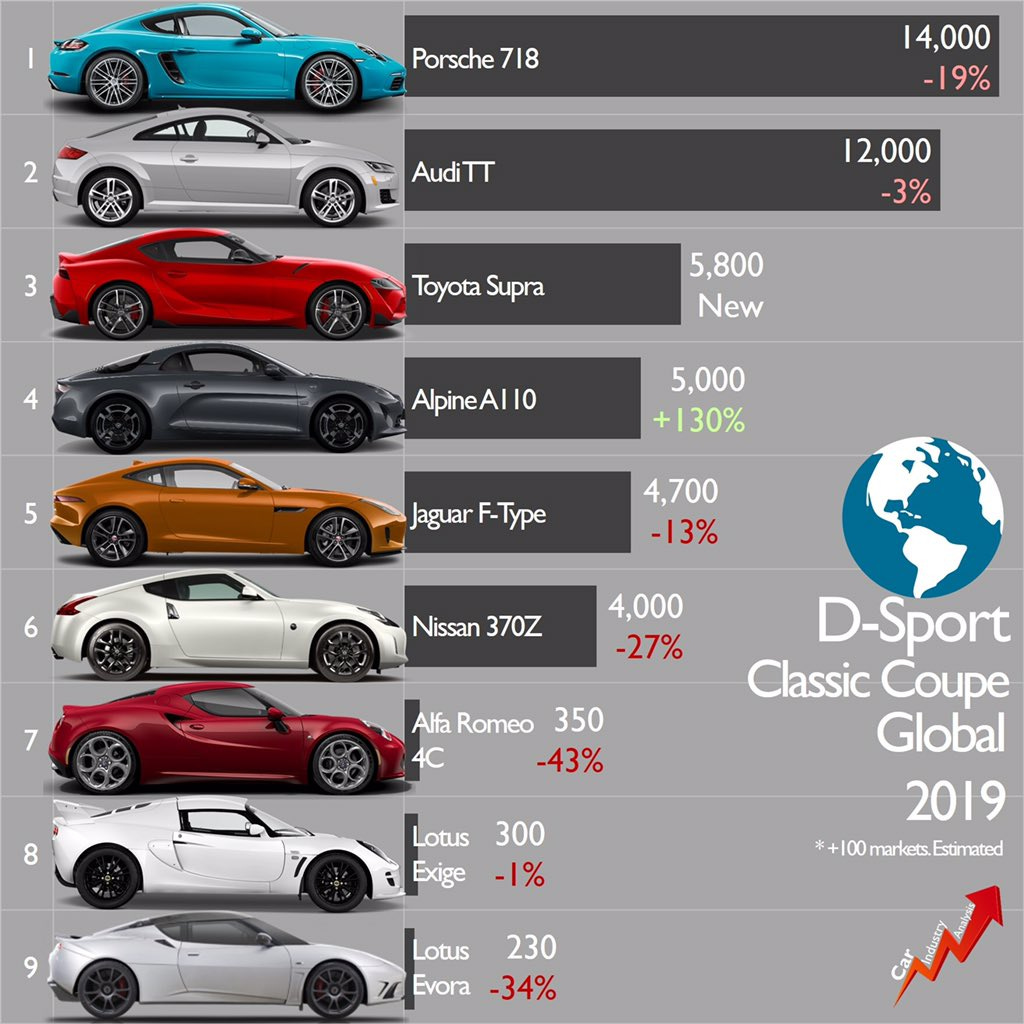 Most of the models in the table received critical acclaim, yet many won't be replaced. Unless your name is Porsche, Mustang or Miata the reality is the world is changing and in their traditionally low slung, 2-door, 2-seat form, sports cars just aren't relevant to the majority of peoples' lives any more.
Why? The industry is a victim of its own success – performance SUVs, sedans and hatchbacks now provide much – if not more – performance, often for less money and without the practicality compromises.
Affordability vs age is surely another significant factor. Young, free and fit urbanites haven't money or intonation to buy a sports car that becomes a burden (you can't use it as it intended, you can't park it, it costs a lot of money). So it's older buyers who tend to sink money into sports cars. Problem is, by the time you've reached your sunset years, the thought of stooping low into a cramped space has its appeal severely dimmed by a less flexible body, a dodgy hip or dickie knee.
No one buys a sports car because they need it. It's an image and experience thing. But the ability to access the experience a sports car offers, is diminishing. Buying a car for the thrill of driving makes little sense when your daily life is a short urban commute – one which is speed-camera enforced and traffic-snarlled. How many times in a year do you find yourself on a winding, empty road?
And while enthusiasts will protest that a large SUV is much more environmentally damaging and dynamically compromised relative to a sports car, we need to acknowledge that most of the world now sees it as preferential to sit higher up, rather than being able to 'get the seat nice and low' in the car. SUVs – be they of the dreaded coupe sort or otherwise, also offer the fig-leaf of practicality. It's a purchase that can inherently be portrayed as less-selfish, because it's more useful than any sports car.
The denouement of the gas-guzzling SUV will come, of course. But it seems likely the sports car will cease to exist long before that day. The type's predicament sits at the nexus of many fundamental issue with the car in general today. Cars have always offered freedom, the ability to do what you want, when you want and with whom you want. The sports car dialled up that experience – focusing on a fashionable image, and heightening the connection between (wo)man and machine, usually through speed.
But for much of the world, that has changed. Cars no longer represent freedom. They represent – to many – a burden. A necessary evil. So people buy the best compromise, the least hassle, the most comfort. And the sports car – the experience it offers – is for a great many either no longer of interest, no longer desirable, or no longer accessible.
The answer to this conundrum, if we want to save the sports car? I don't know. But it's clear we need to re-frame the idea of what a 'sports' car experience is – away from outright speed, noise and impracticality – and make it something desirable to people in the world today. If we can do that, we may just begin to solve the wider challenges facing the car, and the wider auto industry at large, today.
| JS
---
Mobility
Why it's interesting: Uber's positioning as the mobility brand everyone loves to hate, is elevated further. But the Uber/Jump/Lime love triangle raises bigger questions about sustainable mobility and the life-cycle of electric, connected mobility products.
---
Having decided to get out of the bike sharing business (it recently sold its Jump e-bike/scooter business to Lime), videos emerged of Uber "sunsetting" many of its old vehicles in Northern California, much to the dismay of many commentators – 'Uber wrecks jump' being Horace Dideu's Micromobility Newsletter headline, that i've appropriated here.
But @crismoffitt, who shared the vehicle 'recycling' process on twitter, suggested that the decision lay with Lime, not Uber – who've become an easy target to beat over the head for its corporate ethics.
Still, whoever is to 'blame', the story highlights a key issue surrounding micromobility products right now – their sustainability, life-span and general re-usability. Apparently, Uber says it explored 'donating' the 20,000 un-required bikes, but
"given many significant issues – including maintenance, liability, safe concerns and lack of consumer-grade charging equipment, we decided the best approach was to responsibly recycle them"
It highlights a wider problem with e-waste and long-term usability for electrically-powered, connected vehicles. The car industry now has to take responsibility for recycling its own vehicles at the end of their life, but this hasn't driven the radical design changes it might have – and while much is being made right now of battery recyclability and second-life, could this Uber/Jump tale of destruction and apparently needless waste be a foretaste of a much bigger scale problem in 5-10-15 years?
We need to start looking at the whole life and circularity of mobility products in much greater depth. This is admittedly complex. But I can't help wonder if consumers will stand for an opaque, shoulder-shrugging attitude to this stuff in the future? Brands who take the lead, behave transparently and move to make changes, either explaining why it's better - environmentally - to retire a product, or explaining how materials and components are continually up-cycled, will be those who ultimately prosper.
Pair with: Nike's circular design guide
| JS
Why it's interesting: changes in California planning laws enable homeowners to reclaim the space they once dedicated to their cars.
Americans love excess, and our obsession with parking might be one of our defining characteristics. We have an average of anywhere from 3.4 to 8 parking spaces per car. For new single-family homes built in 2017, approximately 20% of the construction square footage was dedicated to parking.
So opens this this article by friend-of-Looking Out Alex Mitchell.
It's a staggering statistic, especially as patterns of work shift in response to COVID, folk start to telecommute more, and perhaps decide to drop one or a number of their cars. Seen in that light, that 20% square footage, absent a car to shelter, starts to look obscene, especially in the face of major housing shortages in a number of major cities.
Fortunately, some recent changes in California planning laws allow homeowners to redevelop their former garages in to living spaces. This should provide a win-win-win: for cities, who need to increasing housing capacity, for people looking for accommodation, and for homeowners looking to maximise the return on their investment.
Naturally, a number of companies have leapt in to this new market, providing neatly-designed conversions of garage space with a variety of ownership models to boot.
Alex's article is well worth a read in an of itself. But it also provides creative stimulus for thinking about all the other real estate opportunities that will emerge from a post-COVID, telecommute-heavy world.
| DS
---
Design
Why it's interesting: a story of how UX mediocrity came to define the automotive experience of millions (and millionaires).
---
I don't know what it is about this week, me and people movers, but this article by Bozi Tatarevic got me thinking about another road trip, and the Dodge Grand Caravan that made it possible.
Waiting in the queue at the rental counter at San Francisco airport, my ex-husband and I were arguing about what car we should get.
I had ordered a Ford Explorer, thinking it would be the best compromise of load carrying (we would be 4 up), long-distance comfort (we would be driving to southern Idaho, then to Portland, OR, then back to Berkeley, and automotive interest.
Gus argued that we should get a people mover, a Dodge Grand Caravan, because it would prove to be a far more comfortable companion given the task at hand. As was typical, I demurred, and before long, we were driving through the Sierra Nevadas on on one of the most surreal trips of my life (you can see some of the photos here).
Truth be told, that Grand Caravan was a minor marvel. Powerful, comfortable, and generously glazed, the miles slipped by in captain-chaired, air-conditioned comfort.
The entertainment system, however, was something else. For despite having screens for every row and enough bass to liquify your intestines, the on-screen interface was atrocious. Having jumped in to many a car in my motor show years, it was also weirdly familiar.
And now I know why, thanks to Bozi.
I'll leave him to explain the ins and outs of the development and subsequent deployment of the Harman MyGig head units in everything from Dodges to Ferraris. If you're interested in the development of automotive UX, it's a fascinating trip down memory lane.
Why it's interesting: Maverick artists sometimes get a bad rap. But in the case of Christo's monumental projects, there is much for the world of design to learn from.
---
Following his death last week week, reflecting on artist Christo was an obvious choice for this week's Looking Out. Christo and his partner Jean Claude, who died in 2009, were famous for their wraps – of landscapes, monuments and buildings – which many loved and others loathed. As creatives, we can learn much from them in regard to the creative process and the challenges therein.
Their work was always public, and always free. Anyone could engage with it, for free – it wasn't often locked away behind a gallery door or charged admission to view – and thus had great public significance and impact. The work – unlike like a lot of art – was seen and considered by many. Not just the more wealthy, elite members of society. This was a key part of its impact.
In order to achieve these very public expositions, Christo – more than most artists and sculptors – had to cope with endless red tape. He was as much a negotiator, an engineer, a town planner – often having to gain the approval of hundreds of individual public and private offices, land owners, government departments, health and safety executives, in order to go ahead. This meant that many planned works never came to fruition. It meant his work had a political edge – which made it feel even more relevant and poignant at times (Christo most recently walked away from his Over The River project, despite investment totalling $15M and 20 years work, because of his disapproval of Donald Trump – the government owning some of the land the work needed to traverse).
And like all the best art and design, Christo and Jean Claude's work made us – literally – challenge how we viewed things, altering space, perception and view point. I'll never forget stepping onto the orange wrapped walkway, and stepping out across lake Iseo on the morning of 24th June, still shell shocked from the news that the UK had voted to leave the EU – and having my entire perspective on how you can view the world – change.
| JS
---
Culture
Face masks – fashion statement or cultural question poser?
Why it's interesting: mask wearing might be one way to stop the spread of Covid-19, or allow us to reduce social distancing. But they pose many interesting cultural questions.
---
It started a few weeks ago. A generic supermarket brand. The north of England. Early evening. I'd noticed people sideways looking at me while I queued to enter. But once inside, the reaction was as if I'd walked in naked. People stared, open-mouthed. We were only a week into the coronavirus lockdown in the UK. But in this corner of Britain, wearing a face mask was still pretty radical. According to The Economist, it still is – Brits are far less likely to wear one, and far less likely to believe they are in any way effective – than most other European countries or any Asian ones. Despite the fact we Brits too, now have to now wear them to use public transport.
Brits have always been a little different when it comes to fashion. And that's what face masks are radically moving towards. In other European countries, the mask has become a fashion statement – particularly in the more fashion-associated parts of France and Italy. Vogue last week had a story "Masks to shop now" and already (ok, partly because of research I was doing for this article) all my Instagram adds seem to be about face masks that i can customise, or which GQ or Vogue have recommended – like the one by happymasken.de – at the top of the article.
Given that many of us are likely to be wearing masks for the foreseeable future, it seems inevitable that masks will become a fashion item – they're so visible, you'll notice them much more than you will what shoes someone is wearing. And ultimately perhaps this move to fashion piece is a good thing, particularly for reticent northern British men. Suspicious of new things (and of looking silly), means that eventually, if everyone is wearing a mask, they will too. Call it a form of peer pressure. The choice of a few masks offered and branded by the likes of Adidas will help.
The mask poses so many cultural questions. Why are Brits so reticent to wear them? And when frontline staff are still struggling to get PPE, what does it say if we are prepared to spend big dollars on a fashion brand-made item, in the hope that we can protect ourselves when the core value of a mask, is of course to be altruistic. The mask's greatest power is in stopping your own germs being spread to others. Perhaps if this altruistic side was highlighted more often, there would be less reluctance?
| JS
Tell me more…
Why it's interesting: because action demands empathy, and before empathy comes curiosity.
---
I grew up in Australia, a country with its own flavour of deeply-entrenched racism. My position as a white person protected me from ever having to deeply question my position on the matter.
Now, in my personal and professional life, I'm facing in to some deeply uncomfortable realities. The outpouring of grief and anger, and the brutality that's filled my Twitter feed these past two week is making me to question the role I've played to date, and the role that I want to play moving forward.
Folk are proclaiming far and wide that part of the answer to my questions will come from empathy, and they're not wrong. The ability to walk alongside others in their lives, to be allies to their experience, is more important than ever.
But there's an important pre-condition for empathy, one that often gets lost in the rush to do the right thing, and that's curiosity.
Contrast the following:
A "How are you doing?"

B "I'm feeling really exhausted and confused."

A "I know, it's a tough time right now. The world feels so chaotic! Sometimes I just can't get out of bed in the morning."

B "… yeah, I know."
with
A "How are you doing?"

B "I'm feeling really exhausted, and confused?"

A "Tell me more."

B "…, well, …"
Two things that come to mind when I look at these exchanges:
Curiosity opens conversations. Conversations enable connection, and connection is the path to empathy,

To be curious is to have the humility to recognise that you probably don't know what someone else is experiencing,

To be empathetic is to work. It requires you to show up, listen, acknowledge and sit with what comes after you say "Tell me more.".
But in doing that, you give someone else the chance to speak, to share their experience, for you both to learn from it, and then decide how best to act.
| DS
---
That's it for this issue. We love feedback (positive and negative), and to answer any questions you have. So email Joe or Drew and we'll get back to you.

If you like Looking Out, please forward it to people and send them to this link to sign up.
---
If you'd like to meet other folk who are just as interested in where the automotive industry is headed as we are, think about joining The Automobility Group Slack community.